The much hyped announcement on January 15 from Facebook was all about re-vamping its currently lackluster search feature. Facebook Graph Search is being touted by some as "its greatest innovation" and others as "taking aim and firing a direct shot at Google search" (hmmm…)
Here's how it works –
1. It works with phrases, not words. As in "places my family likes to eat" and "movies my friends like." It's very dependent on likes.
2. It focuses on four major areas of search throughout the social network. They are people, photos, places and interests. These four subsets are aggregated into the feature and your search phrase will bring back results from these areas. Other areas of Facebook such as status posts, songs and music, etc. will also be rolled out.
3. It's in Beta Beta. Meaning they are rolling it out very slowly, and actually will be reviewing feedback and how users interact with the feature in order to improve upon it.
4. The collaborative data is completely intertwined with your individual Facebook experience and interactions, whereas the current Facebook search is random and almost completely irrelevant to the user.
5. It creates exciting opportunities for brands to utilize Facebook search for increased awareness. Having a more robust search engine, combined with a paid media buy of sponsored results as well as a strategic and interesting organic Facebook page will make it easier for the right potential customer to find your business.
6. You can't get it. Yet. But you can get on the waitlist here.
Mark Zuckerberg says, "This is the biggest thing we've worked on in quite a while." Which is true. Since the relatively floppy IPO announcement Facebook has been pretty quiet. And while he says they aren't trying to take on Google search (but I suspect this is on the horizon since the Bing integration of the current search is staying put) Zuckerberg considers this one of the most important pillars of the entire ecosystem; up there with the newsfeed, the timeline, and now graph search. Socialized search, in my opinion, still has a long way to go to catch Google, but the level of personalization and uniqueness it can bring is exciting. It may also bring into question the ever present privacy issue that Facebook has always had to navigate carefully. There's no changes to the privacy policy slated any time soon, but here's more information on how these two things will come together.
This week's post has us looking back on the past year of this blog. It's been a labor of love for us, and we are proud of how far we've come. Our bloggers have come up with some really fun and interesting content. Here's a list of our top posts. We appreciate you following this blog and for sharing it with others. We've enjoyed writing for it and hope you've had as much fun reading it.
1. Social Media Monitoring Tools & Tips – This series by our intern @katy_goodman explores the offerings available from many different tools out there for social monitoring  Social Media Monitoring Tools and Tips: Part 2
2.  Last summer our media planner Allie Buechert examined the social media hijacking of a Wal-Mart/Pitbull Facebook promotion Dear Pitbull, You will visit Kodiak, Alaska. Sincerely, The Internet – A Facebook Promotion Gone Wrong
3.  Social Media Monitoring Tools & Tips – The final part of Katy's social monitoring series. This was actually written in 2011 but is one of our most popular posts in the history of our blog. Social Media Monitoring Tools: Part 3
4.  Our digital specialist @Ryan_Green_TM teaches us some efficiencies for being the best worker we can be Time Management Strategies Part 2: Urgent versus Important – Tips for Prioritizing Your Time and Energy at Work
5.  Candice Rotter @candicerotter, our associate media director, tells us why she loves the new social net Pinterest, from a user perspective and as a marketer5 Reasons to Love Pinterest for Marketers and Consumers
6. One of our favorite times of the year, I check out the NBC fall lineup during our True TV panel discussions NBC's Lineup for Fall – Better Than Last Year?
7. Our digital specialist from our St. Louis office, @Lindsey_Sherman explains how to make the most out of a PPC campaign Quality is Key with PPC
8.  Ryan jump starts our new "Work Smart" series on the blog with a post on how to find balance between the real world and our digital selves 4 Ways to Find the Right Balance in Your Digital Life
9. Allie scores again with a smart post on how even though cable companies throw tantrums and create blackouts great TV content can still survive Zombies Show Strong Vital Signs as "The Walking Dead" Season 3 Begins
10.  Our media planner Emily Ann Brown kicked us off in the new year with a post on a huge social media Twitter #fail from one of the world's most recognizable brands McDonald's Sponsored Trend Spirals Out of Control
Nate Silver and I are kindred spirits in a number of ways.  We both started playing poker professionally during the poker boom of 2003, when ESPN began broadcasting the World Series of Poker during primetime.   Silver is the man behind Baseball Prospectus' PECOTA projection system, which predicted that Dustin Pedroia would become an all-star, even when all of the scouts wrote him off because of his stature.  PECOTA correctly picked that the Tampa Bay Devil Rays would win the World Series in 2008. We are also both political horse race junkies, and Silver's FiveThirtyEight blog, which uses a linear regression model to predict the outcome of Presidential and Senate races, has been a daily visit of mine for years now.  His model correctly picked 49/50 states in the 2008 Presidential Election (and 35/35 Senate races), and got all 50 correct this past November (even Florida).
Silver's success across multiple disciplines showcases his ability to differentiate the signal from the noise, and within his FiveThirtyEight model are many lessons on how to properly utilize big data.  Let's take a deeper look at couple of these insights and how to apply them to an intelligent digital advertising campaign:
Recency: While I was surfing on Facebook last week, I was clicking on a friend's link, when, out of the corner of my eye, I noticed an ad for the upcoming They Might Be Giants concert at The Blue Note.  Having already navigated from the page, I didn't have an opportunity to click on the ad, so I searched Google, was taken to the purchase page, and bought a $20 ticket for the concert.  If I was managing The Blue Note's ad campaign, I would want to assign a value to both the Facebook ad that originally caught my attention (even though I never clicked on it), as well as the SEO work that brought The Blue Note's website to the top of the SERP, search engine results page.
An accurate attribution model should give the Facebook ad the majority of the credit for leading to the sale in this instance; conversely, it shouldn't give nearly as much credit to a different ad served to me weeks ago.  Silver's FiveThirtyEight model accounts for this recency issue by giving more recent polls higher weight than older ones by using an exponential decay formula to discount old data points.  The majority of online advertisers, however, don't do this; they use a "last-click" model, which would attribute 100% of the $20 conversion value to Google instead of Facebook.  This is one example of a lingering statistical bias in many digital advertising campaigns.
Skepticism of Data: While this may seem counter-intuitive, in the age of big data, digital advertisers may get more mileage out of the data sets they throw out more than those they choose to keep.  For the FiveThirtyEight model, most of the raw data comes in the form of polls, and Silver chooses not to consider data from pollsters with a history of questionable methodology, as well as internal partisan polls conducted on behalf of candidates and campaign committees (campaigns tend to only release polling that is favorable to their client, thus introducing cognitive bias).  Moreover, the pollsters that are included are ranked by their historical accuracy, along with the sample size of the individual poll in question, and given an appropriate weight in the model.
As of right now, digital marketers are limited in the ways they can verify much of the 3rd party demographic data they use to serve ads to target audiences.  Soon though, comScore will have access to a trove of Facebook's data (which has incredible reach and is highly accurate by internet standards), and can then begin to assess the accuracy of data aggregators like BlueKai, Exelate and Bizo.  Some preliminary evidence suggests that these data aggregators may not be that accurate; multiple people may use the same family desktop, for instance, making it difficult to identify the age and gender of a specific IP address.  Tracking capabilities on mobile devices is not particularly accurate either, as many devices do not accept cookies.  All in all, 3rd party data is a noisier statistical environment than most advertisers realize; I personally put a lot more faith in 1st party data, like that collected by Google Analytics.
Multi-variant Linear Regression: The biggest overlap between the FiveThirtyEight model and an attribution model for advertising is its use of multiple data channels.  Silver's model doesn't just use the aforementioned weighted polling averages, but also the Partisan Voting Index, the demographic composition of the electorate, incumbency status, and several economic factors, before determining the snapshot of a race.
An accurate attribution model does the same thing; it takes data from display advertising, pay-per-click, organic results, social media channels, pre-roll video, mobile and offline advertising, and weighs the contribution of each placement along the way.  Admittedly, measuring each of these data points is inherently difficult, time-consuming and expensive to execute.  Furthermore, data from mobile and social channels are not readily available to advertisers, adding further complications.  Nonetheless, this type of analysis should be the goal of savvy internet marketers.
The Role of Humans and Computers: One important thing to note regarding attribution modeling is just how crucial the human element is to its accuracy and success.  Data without context is completely useless, and as more and more data is aggregated, the more likely it can be used in biased, unsound ways.  It is an advertiser's responsibility to give context to data points, to accurately account for unknown factors, to acknowledge the margin of error, and to add qualitative analysis to quantitative results.
In Nate Silver's book The Signal and the Noise, he discusses how a forecaster at the National Weather Service produce forecasts that are 15% more accurate than what the computer models tell her, by adding the knowledge of her own experience to make small changes to the computer forecasts.  Likewise, a savvy, experienced marketer adds value to his campaigns by viewing big data through the right lens to accurately inform his analysis.
This morning when I logged in to Facebook I saw an odd notification…
Notice there is no picture next to the notification. I was shocked to see that sometime over the weekend I had accidentally turned on Photo Sync, an odd new feature that Facebook has recently rolled out. Turns out when I updated my app over the weekend this was set as default to "on."
Yikes! I logged on to see every picture I had recently taken on my phone waiting for me to "approve" to share. Thank goodness Facebook doesn't just sync and share this out to the masses, as I have very personal pics of my kids goofing around that are private and only for me.
I really think that Facebook should send a notification to every user when they roll out changes like this. I work in social media and wasn't aware that I was accidentally uploading pics from my phone to Facebook. When my app uploaded I just accepted all the changes and didn't really understand what "syncing photos" meant. I should know, and I'm telling you, pay attention to changes and take the time to read up on them before hitting the accept button. I really love the cute pic of my kid in the bathtub, but I don't want to share it with all of you.
Sorry.
If you want more info on how to turn photo syncing off, watch this great YouTube video I found –
Data Doctors Facebook Photo Sync
Our media director Chris Evans sent an email to the social department this week. The subject line said "let's discuss." The email contained a link to this article for us to debate at our next social recap meeting.
Debates can sometimes be dry, there's never enough time to get any real questions answered and everyone disagrees about who won or lost – like it was the actual election or something.
Enter social media, the new frontier of political satire which makes politics more entertaining and relatable. Here are some of our favorite tweets and memes from last night's debate. Both sides seemed to get equally picked on, including the moderate. Our blog post doesn't pick sides and we're not endorsing anyone, but if you're ready for a reprieve from the seriousness of the political season, check out Twitter or google "Big Bird Memes."
25 Funniest Tweets About the Debate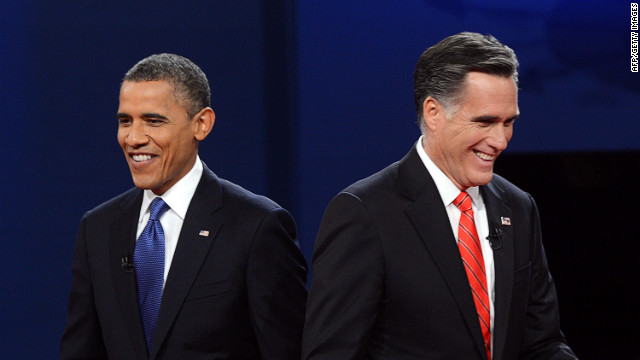 Share your favorite political memes and tweets in the comments below.
Believe it or not, Martha Stewart of all people has leapt ahead of the curve in online video.  Her Hallmark TV deal is over, and she's chosen to focus her efforts on online video for the future of her brand.  Martha Stewart, like any brand out there, has to figure out a way to make her brand relevant to the next generation of consumers, and she's got some pretty compelling reasons to switch her promotional strategy to online video from television.
When you think about it, it really does make sense.  People watch Martha Stewart to get instructions on various recipes and crafts.  Why not make that content readily available to consumers so they can access it when they're ready to start their project?  And the numbers are there to back her up: According to ComScore, her Adults 18-34 audience has grown over 60% from August 2011 to August 2012.  We all know her TV ratings never grew that much in that age demographic, especially when it was on the Hallmark Channel, one of the oldest-skewing cable networks.   Engaging this age demographic is going to be key for the future success of the Martha Stewart brand.
Luckily, Martha Stewart already has a great base of interested customers to tap into with the rise of Pinterest.  These days, young women  like me are feeling inspired to be more like Martha Stewart (with DIY crafts, delicious recipes and organizing/cleaning tutorials aplenty) and will be able to share all of the great Martha Stewart videos they find on their Pinterest boards.  I have ended up doing many of her projects that I have found on Pinterest and before I became a Pinterest addict, I would never have considered myself a crafter.
Now that consumers have multiple devices and high speed internet at their fingertips, I think we'll start seeing more instructional programming from television begin to really flourish online.  This programming has been on the decline for the last several years, so I'm glad to see that it's finding a new place in the media landscape because there still is a demand for instructional programming.  In the next few years I think we'll start to see networks like the Food Network and HGTV use their digital properties for instructional programming while using their TV platform for more their higher-rated entertainment based shows.
Especially social media, and especially when it comes to the law, and legal issues?
This post came across my inbox, and it's truly apropos of the discussion we were having recently at a local PRSA event. The PRSA luncheon was called "Can I Post That? Keeping Up with the Fast-Moving Target of Social Media and the Law." It was presented by Sandy Davidson, professor, MU School of Law and MU School of Journalism. She is a truly wonderful and entertaining educator who really knows her stuff when it comes to legal issues with traditional journalism.  The main point of her talk was that traditional copyright and legal limitations should apply to online interaction, including social media, and that just because the medium is new doesn't mean the old laws don't apply.
I agree with this somewhat, but I still left feeling like I needed more information. I was hoping that we would discuss more examples of legal issues that arise from the prevalent use of social media in today's society. I don't really fault the speaker, I just get frustrated that there aren't more legal precedents set for me to draw on for our clients, who come to me asking about whether or not they should link to a certain article in their corporate blog or share a certain picture or post on their brands' Facebook page. Brands are scared of the many "what if's" involved in engaging in a communication medium that they don't fully control and don't fully understand. I also don't think that someone who is giving a lecture at a luncheon about social media should open with the fact that she doesn't use most social media channels, if any at all. But I digress.
The lecture was very informative and gave me a refresher on what those traditional laws are as they relate to libel, privacy and copyright law. I'm no lawyer, and when my clients come to us asking those tough questions I advise them to run it by their corporate legal team. However it's always good to know how, for example if something inappropriate or inaccurate is posted in a comment on a blog the publisher (i.e. the brand) is not necessarily liable for a remark that came from the community interacting with the brand. Also, that if there is a reasonable expectation of privacy then maybe you shouldn't take that pic and share it out on Twitter to your 800 followers. This brought up the interesting and sad case of Tyler Clemente, and a rousing discussion about Google Earth, according to the law there is no "reasonable expectation of privacy from the air." I'll let you Google "most embarrassing Google Earth pics" on your own.
I think copyright laws win the category of most out of date in relation to the Internet. According to the law, the internet violates copyright laws all the time. So I guess the Internet does think it's a little special. The vastness of the internet makes it very difficult to regulate, obviously, and the walled gardens surrounding social media the likes of Facebook make it even more difficult.
Time will tell when all this is sorted out. As social media grows and evolves precedents will be set. Until then we're all just trying to figure it out. Know a good lawyer?
Our font is Tahoma. Our game is media. We have baked goods a-plenty. We are True Media.
Starting my internship for the summer, I was looking to acquire strong skills and some recommendations for when I moved to Chicago in the fall. As things progressed, plans changed and I have since been offered and accepted a full-time job offer with True Media.
I am truly excited about the future, and this comes directly from the time I have spent interning at True Meda. The excitement of working full time with a group of people I have already had some time to get to know and learn from came directly from my great experience as an intern. As a result, I wanted to share my experience as an intern as well as impart future interns with some wisdom.
True Media has been a combination of a friendly atmosphere and productive place ever since I stepped through the door. I immediately hit the ground running doing work for Candice Rotter our senior media manager.
I was directed towards Candice at the beginning of my internship, but because we are a boutique shop with big ideas and motivated people I got to wear a lot of different hats. I ended up assisting several members of the True Media Team including planners, buyers, and social media. The range of tasks I got to perform in several areas of the company really helped me gain a broader perspective of how everything works in media and advertising.
If there is one major lesson as an intern to take away, it is to find the most overworked person and help them out. Seriously though, at an agency as fast paced and growing as rapidly as this one, just speak up and be ready to take on any project that comes your way. Don't be caught up in thinking you have one role, because there are so many different facets (buying, planning, digital, social media) that it is imperative in this business to have a good feel of the entire atmosphere. Be consistent and reliable. Not only does this show your co-workers your work ethic, but it also makes you a valuable member of the team.
No one is going to babysit you during your internship. You can sit there and stare at the computer screen, or play on your phone when no one's looking, but why waste your time when you can be learning and experiencing?  I think making myself indispensable to the members of the True Media team had a direct correlation with me receiving a job offer at the end of my internship.
Having just graduated college, I have been in plenty of group projects and been a member of several organizations. The experience that I gained as an intern from True Media has taught me how to handle both triumphs and failures professionally, as well as the type of work that goes into both.
Since I am now a little wiser and am able to bring an outside perspective, here are a few gems that I have learned while being at True Media
1.   A team oriented work force makes everyone's job easier.
I don't know all the answers, and I never will. The great thing about the attitude at True Media is that asking for help is encouraged. As an intern, it is important to make sure you are willing to learn as well as offer what knowledge and experience you have to your co-workers.
2.   Good sales reps make your day.
In this business you have to work with a ton of reps from different companies. As an intern, you have to make lots of phone calls to various vendors requesting media information. Dealing with people who know what they are talking about and have a quick turnaround time are amazing and make your day better. Here's to you, amazingly helpful reps.
3.   A content workforce is a productive workforce.
True Media does a fantastic job at keeping people on task by providing monthly massages, training, and my favorite part, a weekly catered lunch. And now that I'm full time, I will be able to participate in the much anticipated monthly "massage Monday." Yes, it is an awesome place to be.
4.    Clients, clients, clients.
I have learned it is important to make client relationships the solid foundation of all your projects. Sometimes clients need your expertise and guidance and sometimes they just need to know you're on their team. In our fast paced industry we are asked to complete projects on the fly, or even yesterday. We try to comply with these requests, and it definitely is interesting and exciting ride.
5.   Technology
I don't think there is an industry out there that doesn't get frustrated with technology. In our business, Facebook tends to be as guilty as that 270 page excel spreadsheet that never seems to work when you need it to. We work a lot in the digital and social space, where things are evolving at lightning speed. Our staff is amazing at keeping up and staying ahead of the curve.
6.   Scheduling
Since we deal with clients in the U.S. and Canada and in many different time zones, scheduling calls, project due dates and times means being able to juggle a lot of moving parts at once. The nature of being an international company I guess.
Visit our website if interested in applying to the True Media's internship program, we are also currently hiring for full time positions. Please don't hesitate to email cevans@truemediaservices.com or myself aansoff@truemediaservices.com with questions. If you just want to discuss internships, getting a job, or want advice in general, please leave a comment.
The results are in! Kodiak, Alaska will be hosting Miami based rapper, Pitbull in the near future. The remote store generated over 70,000 "Likes" in its recent Energy Sheets/My Local Wal-Mart contest.  (reference previous blog). Just as this contest took an unexpected turn, Pitbull has now reached out to the source of the contest hijacking, said to be Boston based writer, David Thorpe, to invite him along to the Kodiak show. This is definitely a smart move on Pitbull's part. He should not go and do anything that would make the people of the Internet angry by not holding up his end of the bargain. I would say the score is tied… Internet: 1; Pitbull: 1. Will the prankster attend the show? I guess we'll find out.